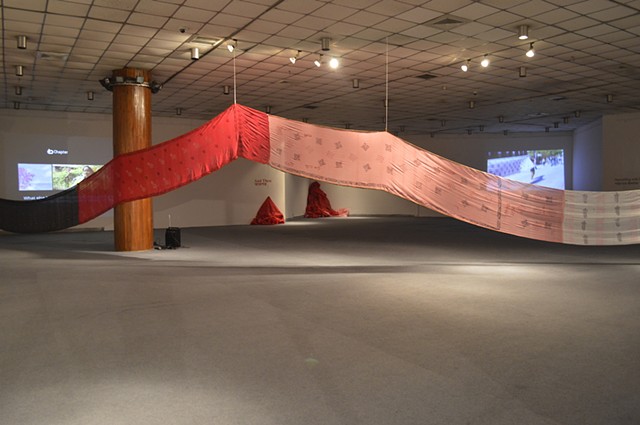 My paintings, works on paper, performances and installations are symbolic narratives. I move strategically across media and disciplines -- often incorporating science and policy into my work -- to address complex issues and engage diverse audiences. I am Bangladeshi and American, an artist, lawyer, mother, and activist on women's issues and the environment.
My work addresses gender, women's literacy and sexuality, and climate change. The sari blouse and sari are recurring symbols in my work, standing-in for me, the female body, and women's place in the world. Water is also an enduring theme, speaking to life, climate, sustenance, death, and renewal.
Bio: Monica Jahan Bose is a Bangladeshi-American artist and climate activist whose work spans painting, printmaking, performance, film, and interdisciplinary projects. Her social practice work highlights the intersection of climate, racial, gender, and economic injustice through co-created workshops and temporary public art installations and performances. She is the creator of STORYTELLING WITH SARIS, a long-term art and advocacy project with her ancestral village of Katakhali, Bangladesh. She has partnered with the International Center for Climate Change and Development to present a climate knowledge sharing and adaptation workshop in Katakhali. Her work has appeared in the Miami Herald, the Washington Post, Art Asia Pacific, the Milwaukee Sentinel, the Honolulu Star Advertiser, the Japan Times, and all major newspapers in Bangladesh. She has a BA in the Practice of Art (Painting) from Wesleyan University, a Diploma in Art from Santiniketan, India, and a JD from Columbia Law School. 


Image: And Then, 2015, Bangladesh National Museum.